Share :
ET1 Claim Form
An Employment Tribunal (ET) Claim is made on claim form ET1. The majority of the form asks for general information about you and your employer. Your claim can be rejected if you fill in the form wrongly. The main part of the form is box 8.2 where you set out what happened and what you want the ET to do about it. This is called your Grounds of Complaint. Every ET claim has a statutory formula. The statutory formula sets out the legal principles that apply to that particular claim. Your Grounds of Complaint tells your story and sets out the legal framework that applies to your story. The ET1 Builder helps you by setting out the legal principles and guiding you in how to apply your facts correctly. You must write out everything that you are complaining about, because the ET will not consider anything that is not part of form ET1.
See How to complete the ET1 Claim Form
Steps in your claim
Think of your case in terms of these five steps: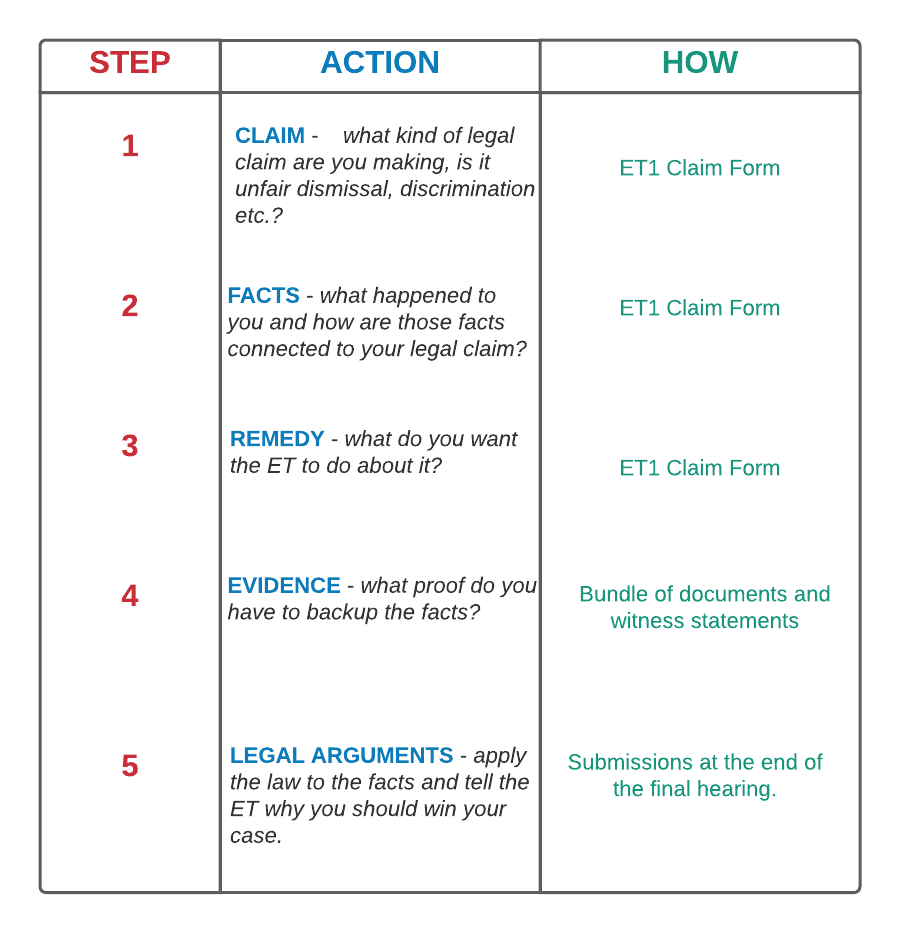 ET1 Builder
The ET1 Builder helps you with steps 1 – 3 so that the Employment Tribunal and the other side understand the facts and the legal principles you want to apply to your case. It helps you apply the burden of proof for each area that you are complaining about. The burden of proof is your duty to provide enough evidence to support your allegations or arguments in the ET. Once you have done this, it is easier to complete steps 4 & 5.
Last Updated: [08/09/2022]